Girls into Electronics online course
We live in a world where technology has a massive impact on all of our lives. Smartphones, electric vehicles, robots, virtual reality systems, high-speed wireless communications - these are just a few examples of recent innovations that are changing our lives. And they have one important thing in common; they depend upon Electronics.

As we look ahead, tackling issues such as the climate emergency, accessible healthcare and the environment are the biggest challenges facing our society. Electronics is at the very heart of the digital technologies that offer us the hope of solving these global challenges and of making people's lives better.

Content and delivery for this online course for current Years 11/12 (S5/S6 Scotland, Years 12/13 NI) is by UK Electronics Skills Foundation (UKESF), in conjunction with Aston University and Royal Holloway, University of London.

Course session timings: 13 - 15 July 2021. Day 1: 9:30 - 15:30 hrs. Remaining days: 9.30 - 15.00 hrs. There will also be a session about careers – timings tbc.

When
13 Jul - 15 Jul 2021
Start time: 09:30 hrs
Finish time: 15:30 hrs
Where
Content and delivery by UKESF in conjunction with RHUL/Aston Uni. Kit sent in advance via post.
Cost
£200*
Online
* If cost is a barrier please see our FAQ for more details.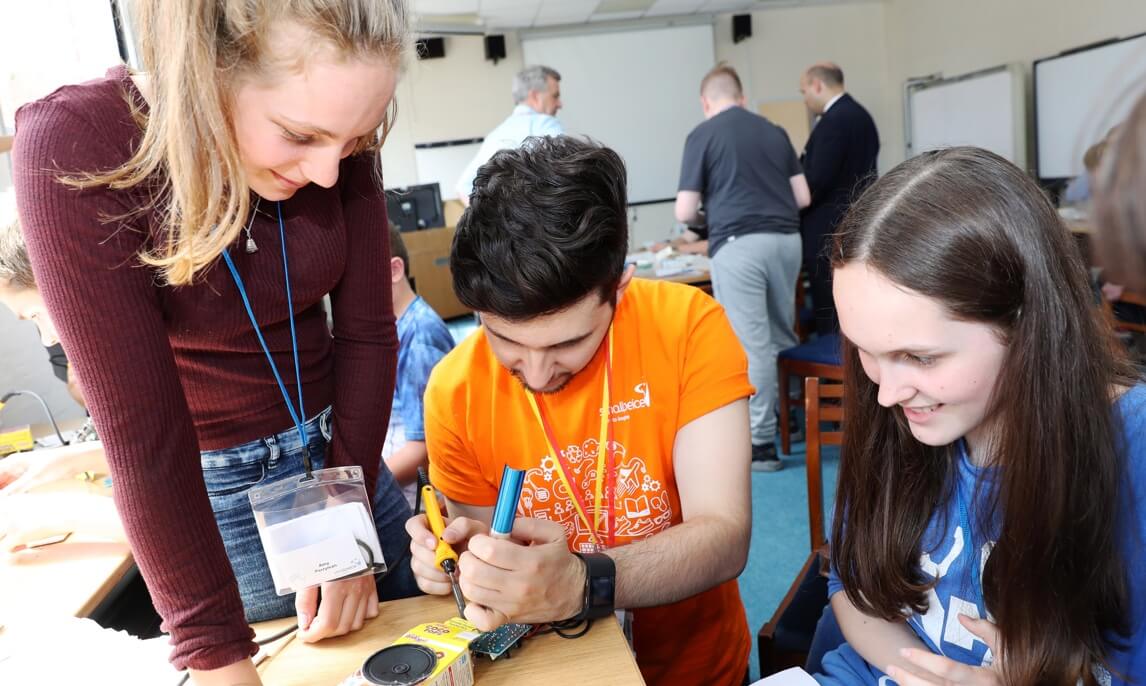 What
Electronic Engineers work creatively to come up with innovative ideas - they develop these concepts into practical solutions by developing processors and sensors, designing the circuits and writing the embedded software code that make the technology work. They create practical solutions to tackle global problems. You could be part of this amazing future.

Each participant on the "Girls into Electronics" course will receive a microcontroller, development board and a range of sensors. These free resources will be sent in the post prior to the course and will enable everyone to create and build their own simple electronic systems. We will provide all the necessary instructions, advice and support. No prior knowledge is necessary.

How
This event includes the following:
Learn how to program an Arduino microcontroller and use it to control an electronic circuit.
Explore how to build a simple electronic system and investigate the use of different sensors.
Find out what it is like to study Electronics at university; find out what Electronic Engineering is all about – ask questions and engage in discussions.
Listen to prominent female university academics and researchers talk about Electronics.
Hear from some inspirational female Electronic Engineers about their work and lives.
Meet, virtually, young female graduate engineers and interns working at leading Electronics companies and hear about their exciting careers.
Find out more about opportunities in the UK's thriving Electronics industry.
In Partnership With